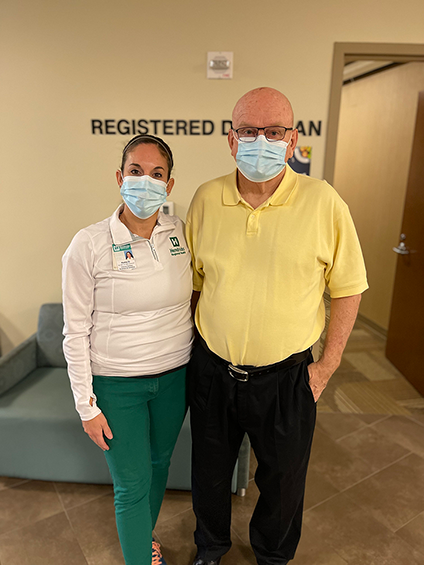 16 weeks. In that short amount of time, over 400 people in our community started small steps that led to huge results: 3,992 pounds lost, 594 inches lost, 629 BMI points lowered, improved A1c, joint health improvement, lower heart risks and so much more.
How did they accomplish so much success? They signed up for Lifesteps® at HRH. This comprehensive program teaches gradual and sustainable changes that lead to a healthier life. "Lifesteps has a big impact on our community," said Kaitie Delgado, MS, RD, CSSD, LD, ACSM-CPT, HRH Registered Dietitian. "It gets a lot of attention for weight loss, but it's really about encouraging small changes that lead to a healthier lifestyle. For example, participants learn stress management behaviors and tips for handling high-risk eating situations."
It was this portion of Lifesteps that Don, Brownsburg, says changed his life. The 72-year-old former schoolteacher said his life has been wonderful, but he was at a crossroad with his health. He has battled depression for over 50 years and was continually losing weight only to regain it, plus some additional pounds. After his annual physical, his physician, Michael Bode, MD, Hendricks Family Medicine, suggested Don speak with a dietitian.
Dr. Bode's suggestion led Don to Kaitie, who thought he was a good candidate for Lifesteps. Don signed up and was blown away by what he learned. "The class turned out to be nothing like I expected," he said. "I knew I wanted to make changes so that I will be around to be a father to my two sons and a grandfather to my grandson for a long time. Kaitie taught me valuable lessons that not only make this possible but have made life enjoyable again."
One of those lessons was hard love. "After I started to see success, I wanted to quit," said Don. "When I told Kaitie, she responded firmly 'You are not quitting.' This is when I truly understood that I could not travel this path alone."
Don says the success he's seen from Lifesteps goes way beyond weight loss. "I have lost somewhere around 30 pounds since starting," he said. "More importantly, I no longer hunch over when I walk, my stamina has improved and my heart is beating better."
Don wants everyone to know his journey has assisted him in areas he never considered. "Lifesteps integrates the mental aspect of losing weight with the physical," he said. "This was the big change I didn't know that I needed. When I started getting healthier, my attitude changed, I felt happier, my sense of humor returned. Most of all, my love for others and myself has greatly improved. It is amazing how your weight affects your mental and physical wellbeing."
Lifesteps is for both associates and community members! The next class begins February 16 and will be held virtually. Orientation is mandatory to be considered for the program. To sign up for the free February 2 orientation, visit Hendricks.org/Lifesteps. If this isn't a good time for you, more classes will be offered later this year.