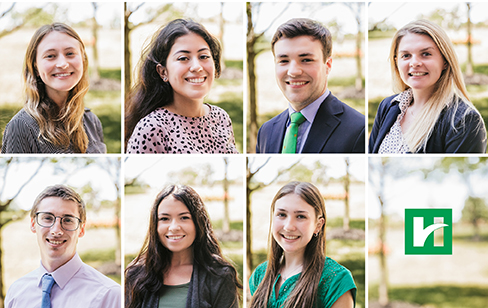 Hendricks Regional Health hosted 10 college interns this summer and gave them a variety of opportunities to expand their knowledge of careers in healthcare. In addition, they participated in several events in which they got to directly benefit our community and work together as a team to live The Hendricks Way.
"I've always felt that internships and shadowing opportunities are the best ways to learn about potential career paths," said HRH President & CEO Kevin Speer. "I can directly trace the path of my career from my first internship at Purdue University. This is why I started the intern program at Hendricks nine years ago and am so excited to see it continue."
Each intern was invited to play a role in one of many community events Hendricks organized, such as Chill and Grills and the Hendricks County 4-H Fair. This included helping to set up the multiple events announcing our historic collaboration with Mayo Clinic. "Seeing everything that went into putting on all the announcement events was really eye-opening," said Spencer Cook, Information Services intern. "I enjoyed playing a part in this for Hendricks."
Interns Nick Boccone, Hendricks Foundation, Isabel Kluszynski, Associate Health, and Britan Shriner, Marketing, collaborated on an additional project in which they created an interactive health exhibit. Their work is displayed in The Imagination Lab in Plainfield, a unique space devoted to inspiring students to think and work in creative ways. The three developed a genetics laboratory featuring stations where students can form a DNA helix model, work to solve Punnett squares and dissect a 3-D brain on a computer software program. "This project was an exciting and unique challenge," said Isabel. "It was amazing to design hands-on activities about such complex topics."
Each intern also participated in a group project in which they debated a controversial current event in front of the members of Hendricks' Management Council. This summer's topic was the U.S. Supreme Court's June reversal of Roe v. Wade, the landmark 1973 decision that legalized abortion at the federal level. The project provides interns the experience to look beyond their own beliefs, research a topic and collaborate on a presentation to an audience.
The associates at Hendricks play an integral role in each intern's experience – and their efforts to provide the students with learning opportunities and real-world experiences do not go unnoticed. "The best part of this internship is the people," said Nick. "I got to work with an incredible team and a lot of people who really care about our community."