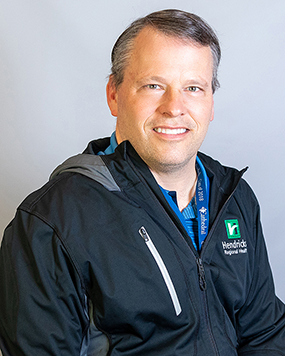 As he ends his term as Chief of Staff for Hendricks Regional Health this month, Michael Flood, MD, is revisiting the journey he took to get where he is today. Dr. Flood was interested in healthcare from an early age because he wanted to work in a field where he could help people. When a radiologist gave him a behind-the-scenes look at the specialty, he made the decision to pursue radiology.
Dr. Flood started working for Hendricks Regional Health in July of 1997 and has watched radiology undergo tremendous changes in the past 24 years. "Imaging has gotten much more fast-paced," said Dr. Flood. "People are getting their test results back almost immediately."
It didn't take long for Dr. Flood to take on a leadership position. He joined our Medical Executive Committee and served on the Physician Relations Committee for over 10 years. After a few years, he added the role of Vice Chief of Staff to his responsibilities. In 2018, he stepped up to Chief of Staff.
In his time serving on the Medical Executive Committee, Dr. Flood has been amazed at Hendricks' growth. "I've been privileged to watch women's health and breast surgery expand exponentially," he said. "Our emergency department has become a vital resource for our community. The addition of Brownsburg Hospital to our system is opening so many new avenues for care. Our changeover to Epic was monumental. Our care is much more sophisticated now than it used to be."
"As Chief of Staff, Dr. Flood has been an incredible leader, constantly providing thoughtful, unbiased and sound input on matters related to our medical staff," said Hendricks Regional Health President & CEO Kevin Speer. "His leadership has been centered around quality and safety, as well as compassion for our patients and their experience."
Dr. Flood is also reflecting on what he learned during his four years in the role. "Before I was Chief of Staff, I don't think I fully appreciated how complex our health system is," he said. "What impressed me the most during my four years is the dedication of the Medical Executive Committee members. Each member is fully committed to their respective committees and knowing what is going on in the hospital. I'm really going to miss working with them in this manner."
Several of his colleagues had similar sentiments to share on Dr. Flood's term. Stephanie Jones, CPMSM, Hendricks Medical Staff Coordinator, said, "Dr. Flood has always been a beacon of professionalism. He has a huge heart and really cares about the individuals he works with." Mark Tompkins, MD, Medical Director of Hendricks' Emergency Department, shared, "Dr. Flood treats everyone the same, whether you're a colleague, an associate or a patient. He digs in and does the work needed without complaints."