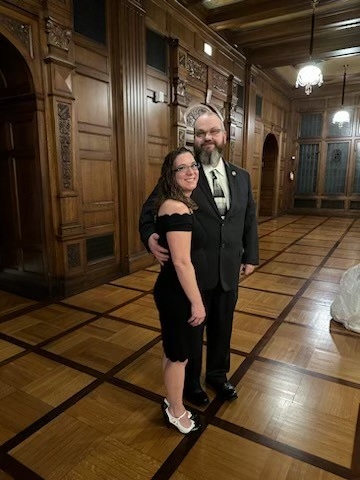 Practice Coordinator Kelli Cunningham says what she likes best about her role at Hendricks Regional Health is that she wears many different hats, and every day is unique. Though, if she had to summarize her job in a single phrase, she thinks "problem solver" would be it.
As a practice coordinator, Kelli represents Greencastle Family Health with the HRH Medical Group, Information Systems and Engineering departments, working to keep her providers and associates current and their technology and facility running as well as possible.
Another large portion of a practice coordinator's job is to work on population health metrics, running reports to see where patients stand and following up with them.
A practice coordinator also helps cover staff absences, performing administrative and clinical tasks (if they have the background).
Kelli does have clinical experience. For 14 years, she served as a medical assistant and phlebotomist for a family and specialty practice in Greenfield. Then she transitioned to a neurology practice, eventually becoming its practice coordinator. Kelli joined the Hendricks team in January 2022.
"Hendricks cares tremendously for their patients and has high expectations of their providers and associates," said Kelli. "I appreciate how well we're treated and how often we're thanked. Motivosity is a fantastic tool to help build culture."
"I think Greencastle Family Health is one of the best teams at Hendricks," continued Kelli. "They genuinely care about their patients and one another and jump to help without a second thought. We also have a lot of fun in the office!"
The team has a mutual appreciation for Kelli, describing her as "sweet, kind, loving and a Chatty Cathy." Kelli agrees that she likes to talk, though only when she feels totally comfortable in a situation. She's an introvert at heart.
With adjectives like those, it often comes as a surprise to learn that Kelli earned a black belt in karate.
"When I was a high school freshman, I followed my mom into karate. I was shy and struggling with change. Karate helped me develop self- confidence and discipline and get over the loss of some close friends. Plus, it's nice to know I can throw a 300-pound person if I need to!"
Kelli was born in Richmond, Indiana, but moved with her family to Danville when she was in the 3rd grade. Currently, she lives in Cloverdale with her husband and 12-year-old son. She says this is where her westward move ends!
Spending time with family and friends recharges Kelli's battery. She especially likes shopping with her mom and sister, bowling and boating. You'll find 1990s country on Kelli's radio and Fire Country or Kindred Spirits on her TV (she's a paranormal enthusiast). Someday, Kelli hopes to visit Pearl Harbor in honor of her grandfather.