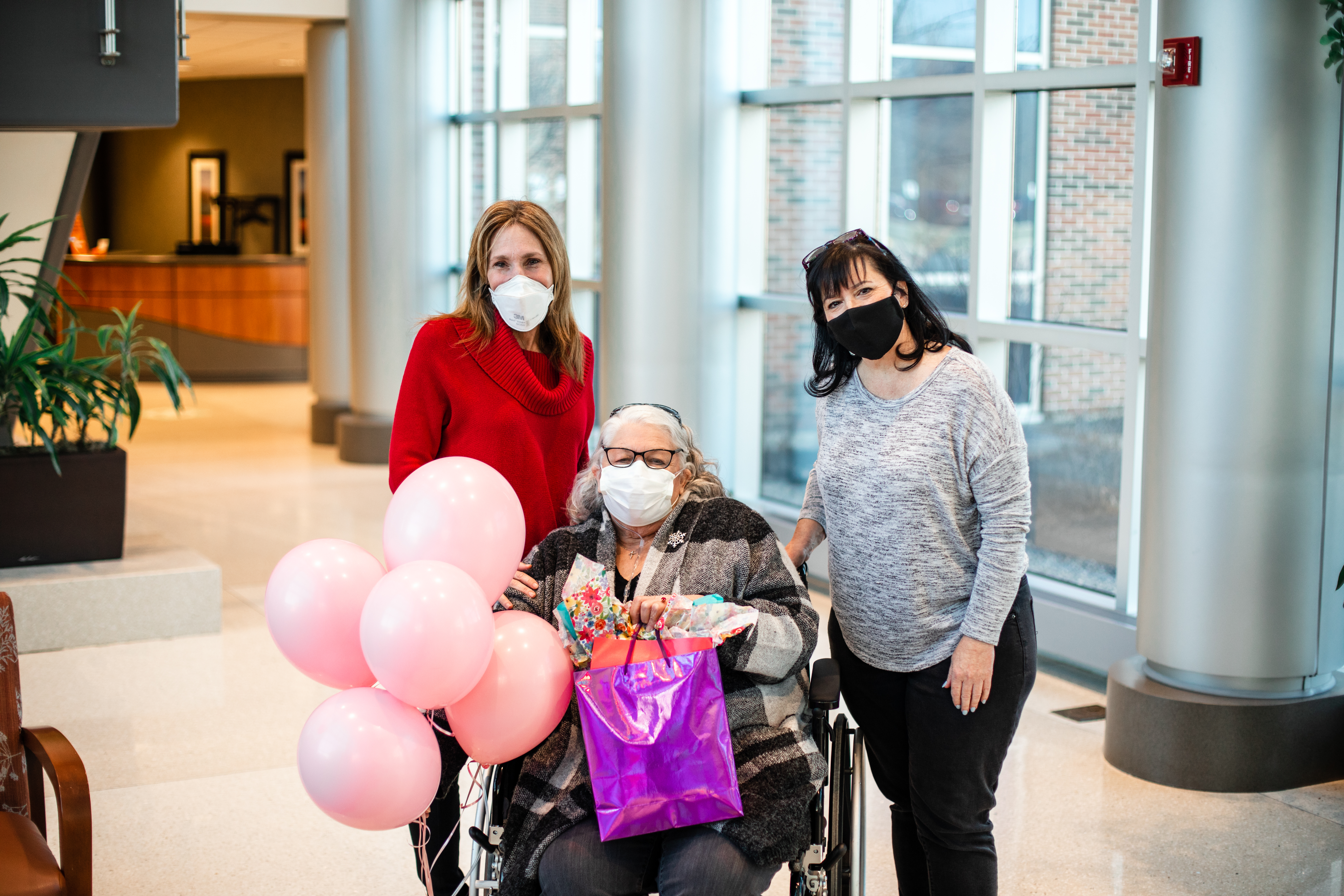 "You guys sure know how to spoil a girl!"
Teresa, Plainfield, is obviously fond of the Hendricks Regional Health team that cared for her. How often does a patient, especially one in the middle of treatment for breast cancer, accuse their healthcare team of spoiling them? Teresa's affection for the Hendricks team is a direct result of their tremendous efforts to transform her diagnosis and subsequent treatment into a journey filled with wonderful surprises. In Teresa's case, it was a spa day gifted to her by the Karen Wellington Foundation.
"I must say, I was so tickled with the fuss that was made over me," said Teresa. "I shared the special spa day with my sister, who has been there every step of the way with me."
The Karen Wellington Foundation treats women living with cancer to activities, such as vacations and spa days, to give them a well-deserved break. Teresa came to their attention through a nomination submitted by Hendricks case manager Kim Anderson and nurse navigator Alicia Smith.
The nurse navigator is often the first person to meet a patient, and that usually occurs when the patient is receiving their test results. The navigator helps guide the patient specifically through the medical journey and helps with the patient's treatment plan. Once the plan is in place, the navigator will bring in a social worker for an additional assessment.
"Our cancer navigation program helps guide people through the medical and the personal journey," said Kim. "As a case manager, I perform social work duties for oncology patients, so I work closely with Alicia. We collaborate on assessing patients on an ongoing basis so that if someone has a need, we make sure it's attended to. We meet the patient where they're at."
Part of Kim's role with patients involves finding resources that will benefit them. "I'm always looking for ways to make life less stressful, easier for patients, whether that's financially or quality of life," she said. That is how she and Alicia learned of the Karen Wellington Foundation and the two worked together to nominate a few of their patients, including Teresa.
"Teresa is a bubble of life," said Kim. "She's in a wheelchair and is on oxygen but she still takes care of her two grandchildren. She got to choose someone to enjoy the spa day with her. She's very close to her sister. I was excited they would get to do something together as they deal with her cancer journey."
"I can't say enough about the wonderful people at Hendricks that I've worked with on my cancer journey," said Teresa. "They have helped me more than they will ever know."
"We have the utmost empathy for the multitude of feelings patients experience following a cancer diagnosis," said HRH President & CEO Kevin Speer. "This is a wonderful example of how our associates go above and beyond to ensure each patient receives extraordinary care."