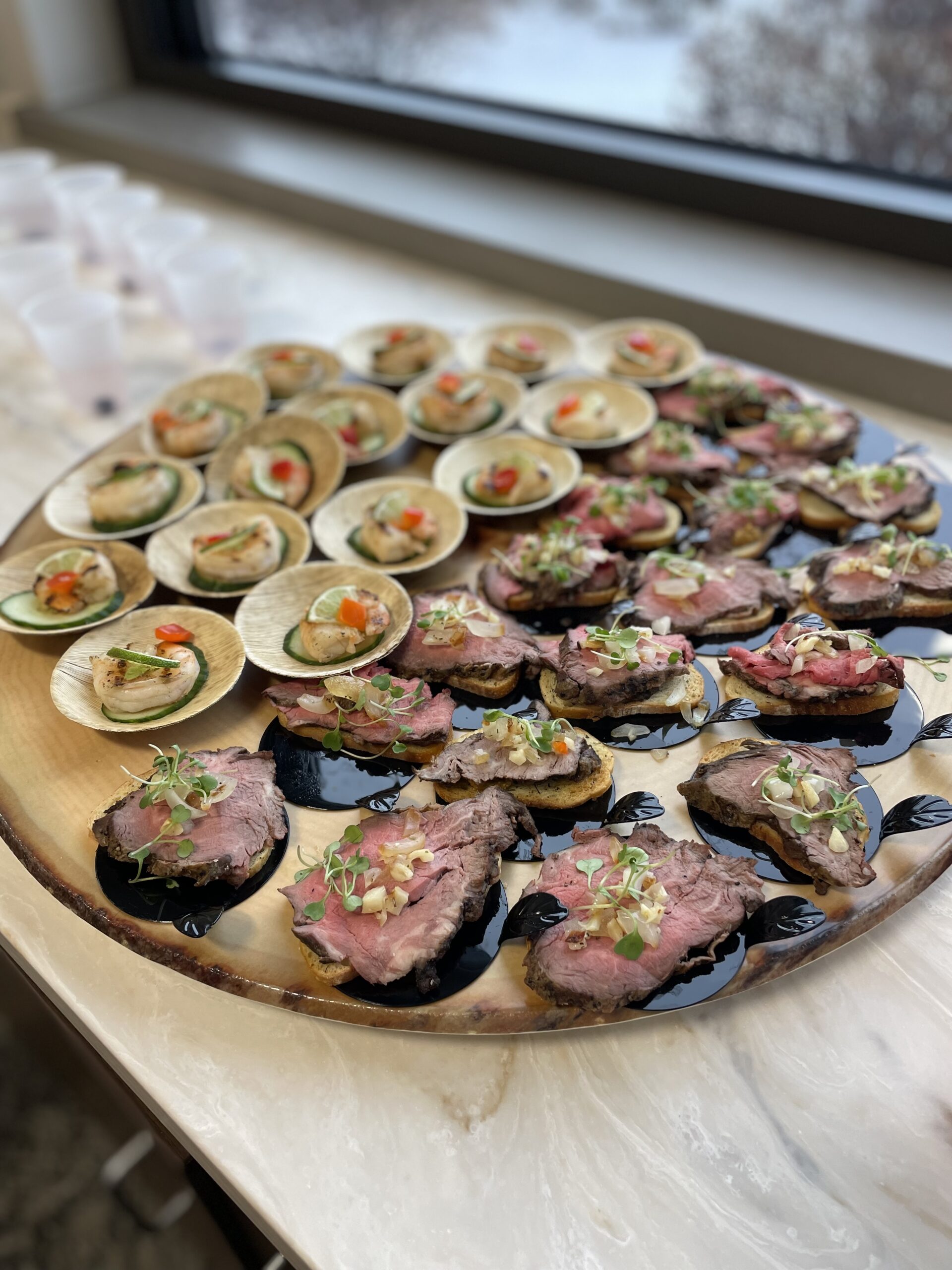 Hendricks Regional Health is proud to be one of the featured sponsors of the Go Red Luncheon on Friday, February 17 in Indianapolis. We are celebrating mothers, daughters, sisters, friends – all women alike – and bringing awareness to generational cardiovascular health and the importance of frequent screenings.
There will be hearty-healthy dishes and mocktails featured at the luncheon, and we wanted to share four of the recipes below:
Roasted Tenderloin of Beef Crostini
Ingredients
20 thin slices of French baguette seasoned with dried herb seasoning lite
10-ounce filet of beef
3 table spoons whole grain mustard.
20 thin ½ inch long slices of red bell pepper
Instructions
Place a thinly sliced of baguette on a cookie sheet
Season with herb seasoning and bake at 300 degrees until lightly toasted, then let cool.
Lightly season the beef tenderloin
Place in roasting pan and roast until internal temperature is 145 degrees (if you like medium rare, cook until internal temperature is 129 degrees) then cool in refrigerator to 40 degrees
After all is cooled, thinly slice beef into 20 slices
On each crostini put a small dab of whole grain mustard, then a beef slice, and garnish with a red bell pepper strip
Kool Cucumber & Shrimp Bites
Ingredients
20 pieces of fully cooked 21/25 shrimp remove tail.
3 tablespoons Wasabi paste
5 thin slices of fresh lime cut into ¼
20 thin slices of English Cucumber
20 pieces of red bell pepper diamond cut garnish
Instructions
On each English cucumber slice, place a piece of shrimp, then place a dab of wasabi in the center of shrimp
Place ¼ cut lime on top of the wasabi
Garnish with a red diamond shape bell pepper
Hummus Crusted Garlic Infused Crostini
Ingredients
20 thin slices of French Baguette brushed with fresh crushed garlic
2 table spoons crushed garlic.
20 Table Spoons Red Pepper Hummus
20 cilantro leaves no stem for garnish
Instructions
Place crostini on a cookie tray, then brush each lightly with crusted garlic
Bake at 300 degrees until lightly browned, then cool
After the crostini is cooled, place a tablespoon of red pepper hummus on each crostini and garnish with some cilantro leaves
Food recipes: William Ellyson Price Jr., Executive Chef & Catering Manager
Valentine's Mocktail
Ingredients
6 cups cranberry juice or pomegranate cranberry juice
3 cups pineapple juice
1 Tbsp almond extract
3 liters ginger ale
1 (12 oz.) bag fresh cranberries (optional)
2 fresh limes, sliced (optional)
Ice
Instructions
Pour cranberry juice, pineapple juice, and almond extract into a large juice dispenser and mix.
Pour in the ginger ale, and give it one quick stir.
Add in cranberries, ice and ginger ale.
Serve within a few hours for best results as it will start to go flat.
Drink recipe: Keola Quartero, Director of Nutrition and Dietetics at Hendricks Regional Health