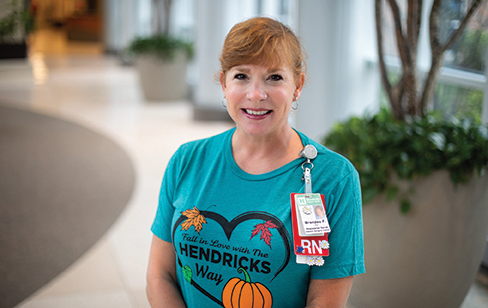 Most weeks, after one of her shifts at the Hibbeln Surgery Center, registered nurse Brandee Farrington treks up to the Indy Language Center in Carmel to learn American Sign Language (ASL) for a couple of hours before returning to her Putnam County home. Brandee initially enrolled in ASL classes as a hobby and a way to challenge herself since her two sons are nearing independence (one is in college, the other a junior in high school). But now, ASL is another way Brandee goes the extra mile for her patients.
"Education is key to my job, and finding ways to relate to our patients always makes the task easier," said Brandee. "A friend of mine who is an interpreter started teaching me basic signs that could be helpful in my bedside nursing role at Hendricks Regional Health, and I became fascinated. I am animated and talk with my hands naturally, so I thought I would put them to good use. ASL is a perfect fit."
In 2015, Hendricks named Brandee a patient experience champion because of the passion she uses to advocate for those in her care. She would like fellow associates to know that ASL is a whole-body language used by more patients than we might think.
"Facial expressions are just as important as hand movements. You should not sign that you are angry or uncomfortable with a smile on your face," said Brandee. "Masks have made life more difficult for the deaf and hard-of-hearing community. Lip reading was a helpful tool, and now that we in healthcare are wearing masks all the time, we have taken that away during an already stressful time.
"I have been surprised by the number of deaf patients who have come through Hibbeln since I started ASL classes," continued Brandee. "I have taken care of four deaf patients so far. While they had interpreters, the patients appreciated that I could sign. Just introducing myself, asking basic questions and understanding their responses makes them more comfortable."
Brandee has been with Hendricks for 22 years, managing the Endoscopy unit for six years before transferring to Hibbeln. She considers the Hibbeln staff her family and loves bedside nursing and interacting with patients and their families. While she does not plan to give it up any time soon, a post-retirement plan is taking shape in Brandee's mind. (Spoiler alert: she is not leaving healthcare!)
"I plan to be an interpreter for the deaf community during medical procedures and visits. I know there is a lot of work ahead of me. I want to start now, take my time and enjoy the experience," said Brandee.
Reflecting on her nursing career, Brandee offers this advice to those entering healthcare: "Be flexible and be patient. Healthcare is evolving so fast and daily; things even change during a single shift. Also, work on your listening skills. Most of the time, patients and their families just want to know they are heard. The deaf and hard-of-hearing communities can lose parts of conversations and may need a little more time. If we can reassure our patients and their families that we are listening, it will make a world of difference."