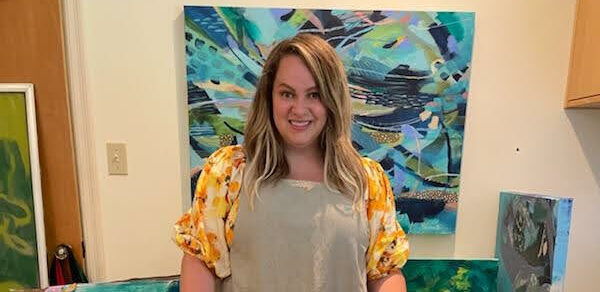 As an emergency medicine physician, Christina Jackson, MD, is dedicated to helping people begin healing. Over the past two years, she and her colleagues in Hendricks Regional Health's Emergency Medicine department have worked long days battling COVID while ensuring other patients receive prompt care as well for chronic diseases, broken bones and other illnesses.
"When I would finish a shift, physically, I would feel exhausted, but my mind was still racing," she said. "My husband and I love to travel. When COVID hit, travel was shut down, and suddenly my number one stress reliever was no longer available right when I needed it most. I had to find a way to calm my mind."
Dr. Jackson turned to a skill set she hadn't used in many years and found a way to not only calm her mind, but help people start healing. "I painted back in high school and had forgotten how much I loved it," she said. "I immerse myself in the process and let the canvas take the lead. My finished projects often turn out much different than what I envisioned when I started."
In 2021, Dr. Jackson began receiving inquiries from people wanting to purchase her pieces. She was even invited to participate in a few shows in Chicago and sold some pieces.
She found new inspiration at one very special show. "A friend organized an art gallery installation at a local hospital," she said. "Her father was dying of cancer, and she worked really hard to create a beautiful space because she believed in the power art can have on a person's healing process."
Motivated by a new vision and purpose, Dr. Jackson approached Stephanie Jones, Medical Staff Coordinator, about creating a custom piece of art for HRH's physicians' lounge. "Remembering how much art can impact healing and energy, I started to think it might be nice to have something for our staff to see because the last couple of years have been so difficult," she said. "Sometimes it's just really nice to have something beautiful to look at. I'm really excited at the opportunity to bring some happiness to people while they're working."
In the time since she and Stephanie first discussed the project, Dr. Jackson has added some exciting things to her plate. She recently accepted the role of Medical Director for Hendricks' Emergency Department in Danville and she and her husband adopted a new puppy!