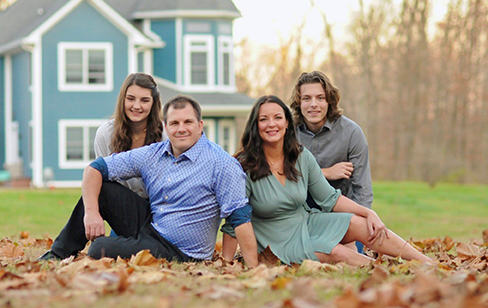 It takes just a few minutes of speaking with Brian Black, DO, Greencastle Family Health, to learn why he has always been interested in a career in healthcare. His father, Thomas, is a physician; mother, Lyn, is a nurse; sister, Laura, is a physician; and sister, Emily, is a physician's assistant. In addition, his great-grandfather was a physician!
"Except for a short time when 'Indy 500 Champion' sounded really fun, I've never wavered much from a career in medicine," said Dr. Black.
Growing up in Greencastle, Dr. Black and his father shared a passion for racing. "We raced spring cars in the 80s and 90s and had a lot of award-winning teams including multiple Motocross and Sprint Car Track Championships," he said. "We have collectively raced motorcycles, off-road vehicles, UTVs, street stock, modifieds, Late Models, Sprint Car and Championship Silver Crown cars. As a child, I had enough accidents and illnesses that I saw a lifetime of medicine firsthand! Luckily, Dad and Mom were always there to patch me up. In addition to dedicated teachers, I had a lot of great influences in my life right at home."
It's clear that family shaped Dr. Black's career and is what he holds most dear. After finishing his residency, he moved to Greencastle to join his father's medical practice. For ten years, he worked there part-time while also working in emergency medicine and hospice. Feeling a desire to spend more time with family, he now practices family medicine full-time with his family. "I think it's incredibly unique that our family can each provide quality care through the same practice," he said.
In 2021, the practice joined the Hendricks Regional Health Medical Group, expanding HRH's presence in Greencastle and Putnam County. "With many of our patients living in Putnam County, Hendricks was searching for ways to support them with greater access to high-quality, low-cost care," said HRH President and CEO Kevin Speer. "This family has been a fixture in this community for over 40 years and the people living in Greencastle know and trust them with their care. They are a tremendous addition to our medical group."
Dr. Black appreciates the trust he has established with his patients over the years. "I love helping people in Putnam and surrounding counties," he said. "I treasure the friendships I've made with our patients and feel honored to have the opportunity to work side-by-side with my family."