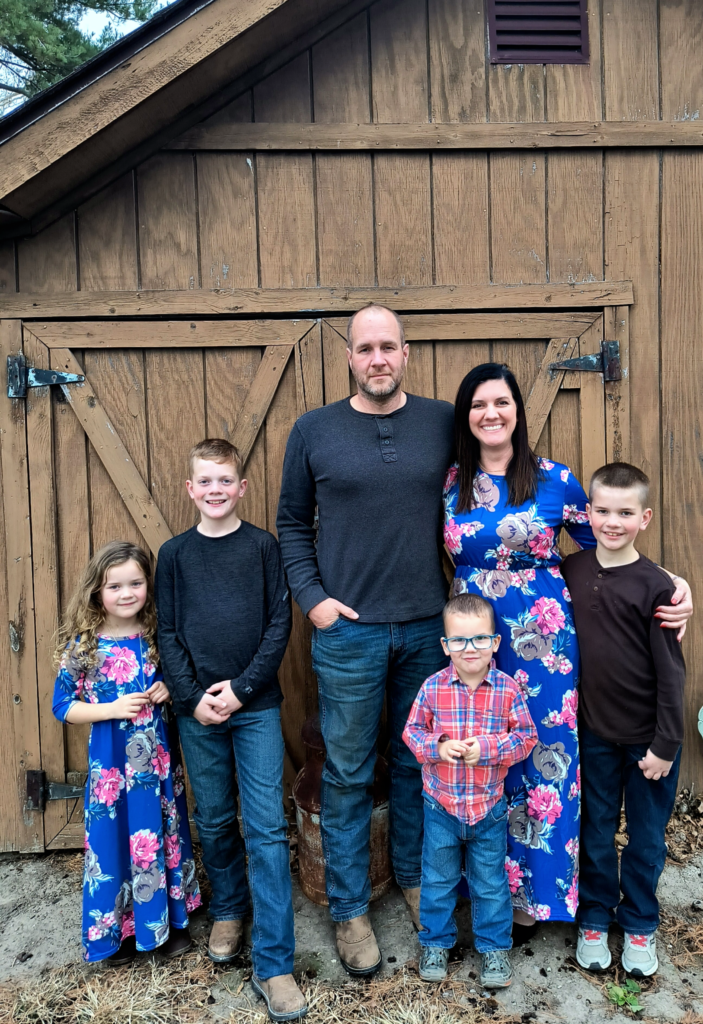 If you head west from Danville Hospital and lower your car window once you enter Putnam County, there's a good chance you'll hear something from Meghan O'Donnell's busy homestead. As the Director of Nursing over enMotion Recovery Care likes to say, "The true work begins once I leave the hospital
Meghan and her husband, Brian, an electrical engineer, are transforming the 60+ acres in Roachdale that used to be the Jacer Inn Family Retreat. All the while, they're raising four children involved in various activities, from academic teams to sports to 4-H. The latter means they're also raising lots of animals.
"We have chickens, cattle, sheep, rabbits, dogs and a cat," said Meghan. "Our kids are responsible for feeding and watering the animals every morning before school and every evening before bed. Brian and I both take a week off work during the Putnam County Fair because we are there from open to close every day. Come see us in 2023!"
Some days, the couple feels like they're running a logistical company and celebrate getting everyone where they need to be with a high five and pizza. It would be easy to assume in a family of four children that the pizza would be their request. Nope. It's Meghan's favorite food; she enjoys it anytime, anywhere, including on the way to work!
Celebrations are important to Meghan because she knows what it's like to struggle and persevere. After her fourth child was born, she was diagnosed with postpartum depression. It was a frightening experience.
"I remember frantically calling my sister because I couldn't even imagine going home and going through the motions again," said Meghan. "I continued to push the feelings down, thinking it was all normal and I just had bad days. Finally, my physical body caught up to my inner stress, and my heart rate was very high for an extended period.
"I am proud for pulling myself through that time in my life," she continued. "There are still hard days, but I can see clearer than ever before. For anyone feeling that things are just not right, I urge them to please talk with someone about it because doing so changed my life."
Something else Meghan celebrates is coming to Hendricks. She thanks her boss "all the time" for taking a chance on her in March 2020.
"enMotion is a unique entity. We are a skilled nursing facility within hospital walls," said Meghan. "We are Hendricks associates but held to entirely different regulations than the associates we pass in the halls. Sometimes our environment can look very different from that of the inpatient world.
"Our team is top-notch. We achieved a deficiency-free state survey in December 2021 and earned five stars in all categories since April 2022," she continued. "The best part is all the fun we have and how much we appreciate being part of the pivotal moments in someone's life."
Meghan looks forward to growing relationships at Hendricks, and while she has no plans to leave healthcare, if she did, the busy mom and RN would chase storms! In other words, don't be alarmed if you see her outside when bad weather is brewing.